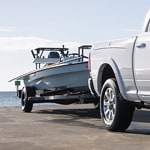 The Ram 2500 has long been known as one of the most durable and reliable of heavy-duty pickups available to buyers today. Its popularity comes from both its rugged appearance and powerful performance.
Much of its performance is owed to the powertrain options that you get with the new 2500 from Ram. It is available with a 6.7-liter I6 turbo-diesel engine. This engine allows you to go as many as 15,000 miles between oil changes. It also has a world-class smart diesel exhaust brake.
The new Ram 2500 also comes with a six-speed automatic transmission. You can shift from first gear or reverse all the way to fourth or fifth gear without delay. You can get maximum get up and go whether you are driving on the highway or city roads.