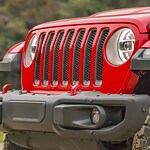 If it's been a while since you checked out the Jeep Wrangler or if you've never had the chance to climb inside one of these popular compact sport-utility vehicles, it's time for that to change. Tim Hodges Inc in West Branch has the latest edition of the Wrangler, and we hope that you'll come by and take a look at its many classic and redesigned exterior features.
The rugged profile of the Jeep Wrangler serves as a strong reminder of the early days of the Jeep brand while also conveying a sense of power and control. An array of roof styles along with easy-to-remove doors and windows allow the Wrangler to be partially, or entirely, opened up for a fun, sun-filled ride.
A multitude of different trim and amenity packages are available that supply upgrades and extras to suit every taste. The wide-ranging color palette also allows you to customize your Wrangler to suit your specific preferences.