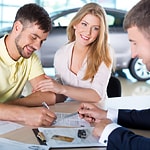 If you are curious about refinancing or trading in your vehicle, stop by Team Hodges in West Branch, MI to talk to our staff. We can help you with any questions that you might have about your financed vehicle.
If you would like to trade-in your vehicle to get an upgrade, it is usually because you want a newer vehicle. The trade-in value of your vehicle can be put towards the new vehicle's down payment. This is a great way to get a new vehicle and not have to save any money.
If you'd like to refinance, it is usually because you want a lower interest rate, meaning that you want a lower monthly payment. You may also want to refinance to get somebody who co-signed for you off of the loan now. Refinancing usually leads to a longer loan term.